ARPOL:
Professional CNC Metalworks
Our priority: giving the highest quality products using our state-of-the-art machine park.
High quality CNC metalworks from Poland
We are an experienced team of CNC metalworking specialists. We manufacture a wide range of metal & plastic components. Every day, more than 30 of our highly-trained specialists take care to produce and deliver machined parts to our customers all around Europe.
Thanks to our well-developed two-shift system, we are always ready to process your orders on time. The third shift remains on standby to increase our production capacity.
We have obtained the ISO 9001 certificate as proof of our rigorous quality policy.
We believe in knowledge – our staff continuously pass different training courses to constantly enhance their skills & experience.
We always follow OHS regulations and comply with all laws and regulations – according to European requirements.
We adhere to all environmental protection rules.
We prohibit child labour, forced labour and discrimination.
We respect any confidential data and we protect non-public business informations.
We make every effort to ensure that your products are manufactured on world-class machine tools by qualified personnel. Our technologists and operators improve their skills through participation in training courses with our suppliers of machines and cutting tools. We meticulously select manufacturers of drill bits, cutters, inserts and threading tools. We have an excellent understanding of the suppliers of metallurgical materials on the market. We know how to work with easily machined materials, such as black steels, cast iron, aluminium, brass, copper and bronze. We also have extensive experience in the processing of difficult-to-cut metals: stainless steel, acid-resistant, duplex type steel, nickel superalloys such as Hastelloy®, Inconel®, Incoloy®, and titanium.
Our machine tools have turrets with driven tools, thanks to which it is possible to perform multiple cutting operations during a single clamping of the workpiece. The speed at which tools can be changed is of paramount importance here. We machine workpieces up to one metre in length and 500mm in diameter in small and medium series. We have lathes equipped with a bar feeder to automate the machining processes. We manufacture fasteners, nuts, and bolts of unusual shapes and dimensions. We also manufacture shafts, sleeves, rings, spacers and brackets. We specialise in non-standard products according to customer documentation. We guarantee the protection of trade secrets.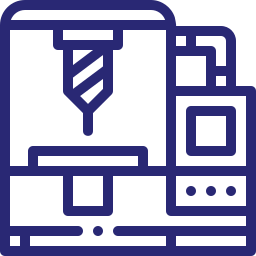 We have a modern machine park equipped with machine tools, milling workpieces with dimensions of up to 1 meter in length, 0.5 metres in depth, and 0.35 metres in height. We machine elements from aluminium, steel, and stainless steel with laser cutting or water cutting. Each surface treatment is finished with edge chamfering to get rid of sharp edges. For unusual shapes, we produce special implements or order specialised tools. Our machine park includes 4-axis milling machines with workpiece measurement probes and tool measurement probes. Pieces which we process are used in the maritime, petrochemical, mining, and energy industries, as well as the furniture industry.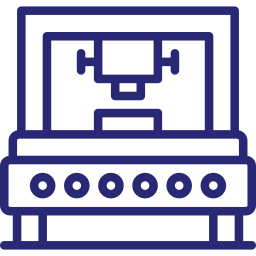 We deal with forming processes of metal sheets and profiles. Our machine park is equipped with a CNC Press Brake, NC Hydraulic Shears, a punching ironworker, Semi-automatic Band Saws, a Drill Press and other devices assisting in metal forming processes. We have implemented an ISO 3834 system for fusion welding of metallic materials. Among our welding machines designed for TIG and MIG/MAG welding, we have an automatic welding machine with a pipe rotator allowing the welding of flanges to pipes using the TIG method. We work with suppliers of Laser Cutting and Water Jetting technology. Manufactured products can be protected with anti-corrosion coatings via sandblasting, powder painting, zinc plating or anodising.
Designing: from Idea to Final Product
Our quotation process begins with a carefully conducted analysis of the customer's documentation and an in-depth verification of applicable technologies.
Your drawings are always safe and protected by non-disclosure agreement. CNC machining is undertaken in our company based on customer documentation or based on of our own designs. We use SolidWorks design tools, the best on the market, thanks to which you have a guarantee of compatibility of our designs with mating parts. The resulting 3D models facilitate the programming of the machines and guarantee the quality of the workpieces. To maintain the quality of machining and implement the features of the technological process, we also program our machine tools using the SolidCAM tool. Using modern CAM software allows us to decrease the costs of commissioning an order. This is due to the optimal selection of cutting tools and programming on PCs without the need for long machine downtime necessary to load the program.
Precision Measurement Control
Final control of critical dimensions with a precision of up to 2.4 μm (by maintaining temperature compensation) is standard with us, thanks to the use of one of the best Coordinate Measuring Machines on the market, from the Carl Zeiss company. The correct production of workpieces is controlled both at the processing stage and during the final inspection of the product. Our Quality Control unit has a number of systematically calibrated measuring devices necessary for this purpose, such as callipers, depth gauges, bore gauges, and electronic micrometers from the highly regarded Mitutoyo and VIS companies. We produce non-tolerated dimensions in accordance with ISO standard 2768 with the accuracy class "m".
We cooperate with many companies located in different countries. We always make every effort to protect the goods against any damage during shipment. The packages are marked and labelled as per our customer's request.
Address
Dworcowa 20
66-340 Przytoczna, POLAND